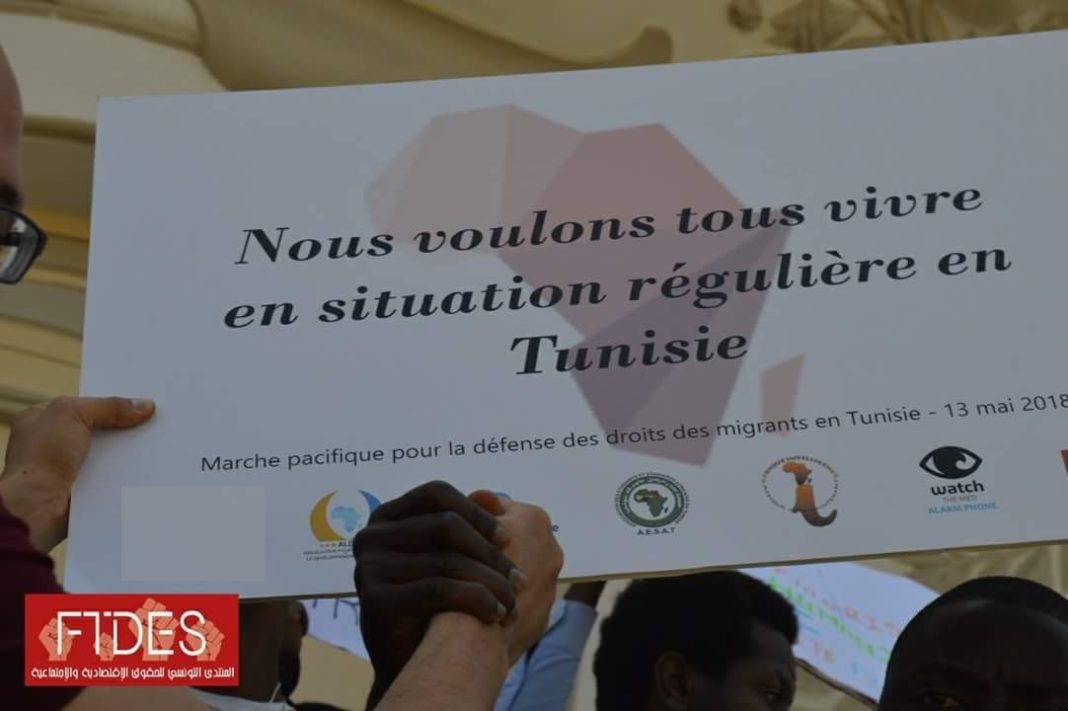 European policies of border externalization aggravate the migration crisis in Tunisia
The Tunisian Forum for Economic and Social Rights (FTDES) is monitoring the escalation of systemic violations against subsarahian migrants, observed and documented in recent months, with great concern. Rhetorics of hatred and stigmatization of immigrants and of their presence in Tunisia are widely and persistently spread on social media platforms, and have shifted to clashes in some neighborhoods in Sfax. In June, security services adopted the discriminatory decision of total evacuation of subsarahian migrants from one of these neighborhoods. Equally, we continue to receive testimonies related to forced and systemic expulsions at the Tunisian, Algerian and Tunisian-Libyan borders, targeting even women, pregnant women and children. Yielding to European pressure, the Tunisian navy deliberately intercepts migrant boats departing from the Libyan coast in international waters.
The authorities deliberately place them in unsafe Tunisian ports where there is neither logistical capacity nor a legal system to guarantee the rights of migrants and refugees and to preserve their dignity. The FTDES condemns the silence of official authorities in the face of these violations and:
– Expresses its indignation at forced expulsions which expose the lives of migrants to danger and are in violation of Tunisia's international commitments
– Calls for an international maritime rescue operation in the central Mediterranean sea to appease the escalation of this human tragedy and to transfer migrants to safe ports
– Reiterates its refusal to make Tunisia a platform for disembarking and sorting migrants under European pressure
– Attributes the moral, political, and legal responsibility to the European Union and its member states for imposing unjust channels of coordination and collaboration to manage immigration which have contributed to the increase of cases of death at sea and aggravated the migration crisis in the Global South
– Calls the Tunisian state and United Nations organizations to mobilize logistical and financial means necessary for the delivery of humanitarian and basic services to migrants and refugees
– Invites the President of the Republic of Tunisia to fight systemic violations against migrants and refugees, to reconsider channels of coordination and collaboration with the European Union and its member states regarding undocumented migration, and to adopt a national strategy of migration and asylum that preserves the dignity and rights of migrants
and asylum-seekers In view of the current political, economic, and social situation in Tunisia, as well as violations perpetrated on migrants and refugees, the FTDES considers Tunisia as an unsafe country for migrants.