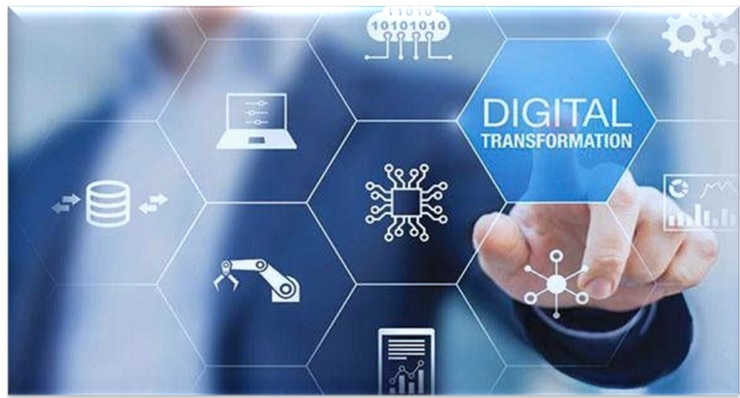 Youth, jobs, and the future of work
Author: Oussama boulila
Date: 11/07/2021
Intern in The Tunisian Forum for Social and Economic Rights (FTDES)
Today's long-term jobs crisis is not only about a financial crash or unpredicted events that can influence long-term jobs but it's about the accelerating trend of talents showdown which mostly consists of technologies and digital innovation, technological advances are ever more rapidly transforming the world of work.
The global economy will be more tech-driven and this can be noticed with each passing year.
Today youth are becoming more and more independent in choosing their future jobs and this because of the new technologies and the advances, that allow youth and the younger generation to earn money through virtual online jobs that provide you several opportunities for earning money.
To begin let's understand the real meaning of online earning money and what is the concept of this new trend.
Concept and methods of online earning money!
Online earning is a way of generating money by using the internet, it includes owning a website, beginning an online business, or opting for other options of online earning that are obtainable from the internet, it's a job that is done outside the traditional office environment.
Most of the popular ways to earn money online that are common nowadays are:
Freelancing: is a very common concept nowadays for earning money online cause the internet provides several options for that.
You can find money websites that offer freelance tasks with varying skills and this require only to create an account and apply for the task that suits you, you can ever offer your services and what are you talented in so interested clients can find you and contact you through this kind of browsers. freelance skills can be in different fields like social media management, web designing, and content writing, etc. The amount of money that you can earn from freelancing depends on the type of work for example the average freelance writer has a rate between $ 30-40 with an annual salary of around 42000$ while the average of a freelance programmer is $60-70/hr. with an annual salary of around $120000. Generally, the more technical a profession is, the more freelancer in that field can earn.
Andrea Reggio is a women from Caracas, Venezuela has 25 years old who has chosen  to be a freelancer and get paid from internet and work from home now she offer her services about finance through a website of freelancing called freelancer.com , she said "freelance had the best offers and gave me the best results" [1].
Andrea has already experienced many memorable moments in her freelancing career. She has an e-book published online, has worked on scripts for video games, and has been hired to write for a blog with over a million readers every month.
Social media: Social media Today became the most popularly used forum by many users when we say social media we talk about principally Facebook, Instagram, Snapchat, Twitter, etc… these virtual spaces have become a major source of income for some people.  Though social media users can be built a virtual community that will enable them to make their product or services more visible all over the world so they can sell them and expand their business also some forums pay users if they reach a specific number of followers. We can take the example of Chiara Ferragni as a success story in social media, she is an Italian woman has 34 years old she is one of the most popular blogs ever to be founded, Chiara started small and now became an international star simply by posting stories about her daily life and traveling and people inspiring from her stories, Chiara has over 16 million followers on Instagram, who are ready to buy from her because they trust her recommendations, Chiara was listed as one of the most powerful fashion influencer in the world[2].
3.      Vlogging: can be a great method to transform passion into income, vlogs refer to video or blog where most or all of the content is in video format, users create a video of themselves where they talk about a particular subject and share it with other using websites and media channels like Instagram and Facebook but the most popular one is YouTube. People nowadays who work through YouTube and we call them YouTubers are making millions from YouTube this requires only creating an account on YouTube and start uploading videos that present subjects you would like to be viewed by a large number of people. as you make your channels popular and the number of subscribers grows, so will your earning potential. the payment one gets is based on every thousand's views.Nowadays some people are still not convinced that someone can become rich by using webcam and recording themselves doing things millions of other people do might seem ludicrous for them, here is one about a success story, Benny and Rafi fine are two brothers ( 30-32 years old, respectively) have been writing, directing and starring in their 'React' series on YouTube (such as "Kids React to Harlem Shake"). Though they initially hoped to break into traditional film festivals, they became pioneers in the burgeoning online video field. They now have 8.2 million subscribers, with over 1.6 billion video views. This nets them around $ 849,000 and $7.1 million per year[3].
Esports: it's a new form of the sport by using the computers or smartphones where users play computer games against other people on the internet we call them gamers and they often play for money, these gamers are watched and followed by millions of fans all over the world, who attend live events or Tune on TV or online also it can be through streaming services which is a system that enables viewers to watch their favorite gamers playing games live, one of the most popular platforms for streaming is "Twitch". If you are a fan of playing, watching, or discussing video games, here are some ways that enable users to turn that passion into an income! The first way and the most efficient that can generate a lot of money is to build a professional team and start competing in various competitions, gamers can expect to earn from $30000 to $50000 per year, plus any sponsorship deals and cash prizes for winning the competition. Another popular way gamer uses it to make money is to stream their game while they are playing on streaming platforms and this platform will pay you once you built a strong community of followers.
Who is Jadan Ashman!
Jadan Ashman is a young guy has 16 years old from the united kingdom, Ashman is the youngest Esports millionaire in history, he began playing video games with his uncle from whom he learned to appreciate the use of controls, in the beginning, Ashman mom was against his playing video games because for her it's a waste of time and it's better to dedicate his time to something valuable so Ashman decides to prove to his mother that she is wrong, and he participated in a world cup of video games in 2019 which took place in New York. As a result, Ashman has proved his mother wrong indeed. He placed second in the world cup of a game called "Fortnite" and he earned half of the $2.25 million dollars cash prize with his dutch gaming partner, making him the youngest esports millionaire. He said, "I've proved to her that I wasn't wasting the hours each day in my bedroom playing instead of doing my homework,"[4]
Blogging: consists of writing, photography, and other media that you want to be published online, it's an opportunity for those who have skills and language and writing and can earn them a lot of money. We can take the example of the Huffington post which is a blog founded by Ariana Huffington[5], she is a woman has 71 years old this latter is a blog that has also involved in an online news aggregator, today $2.5 million come from this blog per month and the main source of income in pay per click advertising.
Cryptocurrency trading: A cryptocurrency it's a currency like dollars, euros, etc. but it's not real we cannot touch it, we called virtual currency based on a Network that is distributed across a large number of computers. The first cryptocurrency was bitcoin which remains the most popular and most valuable. Today there are thousands of alternatives cryptocurrencies with various functions and specifications, now the point of this is that anyone can buy and sell cryptocurrency through platforms made for trading called blockchain, a trader can generate a lot of money through this online trading.
Here's how a student became a crypto millionaire!!
In a world that is experiencing a revolution in the field of marketing, trade, and remote work, cryptocurrencies seduce are increasingly appealing to large corporations and thanks to its rapid evolution many young traders create a fortune. The world is full of crypto millionaires, and each one has its own unique story. Here is one about Cooper Turely a young guy has only 25 years old from the USA, Los Angeles who began investing in crypto at a young age for four years ago. In 2017, Turely found himself getting caught up in bitcoin and crypto hype.BTC saw itself rising to what was then its largest price get of roughly $20.000 per coin. At that time Turely thought he would take a chance with a few hundred dollars he had managed to save up, in one interview he said "It was not a lot at all. At that point, I was still in college, working some ad hoc jobs. I was just putting a couple of hundred dollars in here and there"[6]. Before he became rich through crypto, Turely saw his net worth Tank and he had to deal with getting himself out of the darkness before he could see that light, in 2018 bitcoin come crashing down it lost approximately more than 70% of its value, here Turely decide to keep going and continue his investments while everyone was writing bitcoins off ass something that was just a failing fad. After that decision Turely became rich and he now boasts a crypto stack that is worth seven figures at press time. Since his success began, he has managed to pay off most of his student debt, he has also inspired his parents to begin investing in crypto as well.
Pros
Online earing provide you an endless of opportunities, today you can earn money by simply clicking or sharing something on social media, another advantage is the flexibility, working online will let you be independent and there is no obligation to follow a schedule by someone, you can organize it by your own, you will be a boss of yourself also it gives you the possibility to work wherever and whenever you want. another thing that can be considered as an advantage is that working online does not require investing a big amount of money at the beginning you only need a computer and internet connection which can be found in every home nowadays, you can designate a working space at your home and turn it into an adorable home office. Also, it's not necessary to be a well expert or have degrees to earn money online it only requires some basic knowledge and time and some talents.
Cons
Working online will lead you to do your tasks alone and without interaction with others, this may lead to lack of social contact and a feeling of loneliness and isolation and another thing is nowadays there are many fake websites or scams and hackers, you need be careful to screen them out so you don't end up losing more money than you earned. In addition of that the big problem that block the online earn money and this is very common in the undeveloped countries is the problem of the law that prohibit this kind of works or do not facilitate it because of the bureaucracy, especially in the process of getting the payment after the end of the services and this because the absence of the online payment methods like PayPal, Skrill, etc., and this is the case of Tunisia, we will talk more about that in the following parts.
Is Tunisia ready for the online Jobs revolution and the new technologies of Today?
Tunisian authorities still prevent Tunisian from being able to pay in 2021 a Netflix subscription in dollars or euro also the use of PayPal, Amazon, Airbnb, drone, uber, mining, crowdfunding, international card, while in other countries around the world they start thinking to create new technologies that give better services than those.
Unfortunately, a teenager name Houssem Bougerra has 17 years old was recently arrested in Tunisia for simply using cryptocurrency for online transactions, this kind of arrest shows us the total ignorance of the Tunisian authorities despite making money online using the new technologies like the case of cryptocurrency and they are not yet aware with advantages of this new trend offered by this new form of currency like bitcoins that allow financial transactions to be carried out in a secure, traceable and with low cost when we talk about mining.
The arrest of Houssem Bougerra was made not because of an offense committed, but only because of the total absence of a law on the use of cryptocurrencies in Tunisia and this is similar to the case of drones that are systematically confiscated from travelers by customs as soon as they arrive at the airport, the police accused this young man by money laundering cause they couldn't understand and find the original source of this funds.
The main problem here is the absence of a specific law in Tunisia that organizes the use of cryptocurrencies and other payment methods. The most dominant banks in the world recognize the virtual currency of bitcoins and others cryptocurrency that has recently emerged as the Ethereum, ripple and is included in the field of international transactions These currencies are freely circulating, accessible, and recognized around the world while in Tunisia not.
How cryptocurrency can contribute boosting the economy of the developing countries?
Cryptocurrency improves developing countries by reducing corruption and promoting Transparency, Singapore is the best example of a country that prospered after a successful and corruptions campaigns, Singapore promoted a sustainable and attractive environment for foreign direct investment and economic development which led to the reduction of high unemployment and ultimately the erudition of poverty.
The blockchain technology that offers cryptocurrency can be an efficient way to improve developing countries' economies and reducing corruption through several methods offered by this latter for cracking down on corruption, governments now can control and track how funds are spent and what is spending those funds. According to the brooking institution which is an American research group on think thank row in Washington it says that blockchain technology can eliminate what would be a 15-month corruption investigation at the touch of a button. Cryptocurrency also ensures transparency through its tracking features and in the handling of data.The encryption in cryptocurrency allows for greater security of data, while the trackability of transactions makes all transactions publicly available and searchable. There is no ambiguous or anonymous user, and since every transaction is traced, corruption can be prevented while transparency is enriched. In addition to that, cryptocurrency has an advantage in reducing time and money in transactions by reducing remittance fees which is an interesting offer comparing to the traditional bank services.
Blockchain technology can be a solution for economic enhance in Tunisia?
According to M.hicham Seffa the general director of Attijari bank in Tunisia, Blockchain technology is a topical subject on which all the banks around the world are focused, it can present real leverage for the development of trade with Africa, this can reduce intermediaries and thus to gain in terms of deadline and costs.
If we add to these advantages the involvement of African central banks, confidence will be strengthened and compliance with foreign exchange regulations will be guaranteed.
M.Hicham Seffa added that in Tunisia the use of blockchain technology for the creation of cryptocurrency still a subject of great sovereignty for the central bank and the reflection for this subject has not stopped there are environments where we have gone in opening towards cryptocurrencies and others are until now very closed on the matter.
He said that in Tunisia and African countries in general, with the fragility of the macroeconomic balances and the economic situations of the various countries, it is not important to necessarily enter with large resources, but that they must be integrated slowly and surely.[7]
At the digital level, the integration of new services and features is imperative if we want to improve the quality of services and enhance customer satisfaction. All while ensuring compliance with regulatory aspects. The more we open in terms of technology and information systems, the more it becomes a source of risk in terms of system impact and requires more vigilance. Technological innovation is a real subject of opportunity in Tunisia but also of risk and intelligence is about combining the two.
Here's the Good News!
After the pressure of local media and the community of civil society calling for the liberation of the 17-year-old who was arrested as we said in the beginning simply for using the cryptocurrency of an online transaction. The minister of finance and the Tunisian parliament start thinking to prepare law change regarding the use of foreign currency because this incident caused outrage in the Tunisia crypto community, with many blaming the arrest on lack of clarity in Tunisia, here's the good news that came after all of this. On 12 July 2021, The Tunisian parliament approved an economic recovery law that enables people to open foreign currency for the first time and further permits companies and individuals to agree on a financial settlement for foreign exchange violations. This starting will enable the online business users like IT developers, content creators, artists, and all the freelancers to the extent that they can receive their payments from abroad in currency or buy abroad.
From now on and under the article 11 of the economic recovery bill, Tunisian people have the right to hold currency accounts this will give them the possibility for online purchase and also from payment with foreign currency. It is possible to finance these accounts from transaction with people or companies aboard with a 10% final contribution calculated on the basis of the sums deposited in addition to that the minister of finance introduced these modification in order to enable person who have lost the status of non-resident and resident person of foreign nationality to have real estate, movable property and foreign currency accounts inside and outside the country. Regarding this category, it is possible to finance accounts in foreign currencies or dinars in Tunisia with the sums deposited in these accounts in foreign currencies to cover their expenses outside Tunisia and to reconstitute their accounts in foreign currency.
In the end, Tunisia is suffering from the high rate of unemployment people especially the younger ones, the public sector is already full of employees and it cannot recruit more employees  that's why the government should encourage youth and the new generations to start investing on the internet and to relay on their talents and this is not only by saying some words or make promises but they should go into actions by facilitating their work and solve their problems and obstacles like we said in the beginning the problem of online payment. The government should also admit that these kind of works are official jobs because it can be a good solution to reduce unemployment and also there is another important factor that it will impact on our future work is the pandemic crisis, most of the people now work from their home and the recruitment became harder and harder so it's better to start thinking for creating for your own business through internet.
[1] A journalist's success story: '' choose freelancer because it works! '' published on  13/07 /2016 https://www.fr.freelancer.com/community/articles/a-journalist-s-success-story-choose-freelancer-because-it-works
[2] Chiara Ferragni — the Italian influencer who built a global brand (Financial times) https://www.ft.com/content/9adce87c-2879-11e9-a5ab-ff8ef2b976c7
[3] How Two of YouTube's Biggest Stars Became Its Biggest Villains Overnight. Published on 2/02/2016
https://nymag.com/intelligencer/2016/02/rise-and-not-quite-fall-of-the-fine-bros.html
[4]  "Meet the British 16-year-old esports millionaire who plays (Fortnite) professionally" by Connie Suggitt published 25/02/2020
https://www.guinnessworldrecords.com/news/2020/2/meet-the-british-16-year-old-esports-millionaire-who-plays-fortnite-professionall
[5] Arianna Huffington, Greek American author and commentator published 11/07/2021
 https://www.britannica.com/biography/Arianna-Huffington
[6] "This 25-year-old says he's a millionaire after investing early in ether and bitcoin" published 21/06/2021
https://www.cnbc.com/2021/05/21/how-crypto-investor-bought-btc-eth-early-used-defi.html