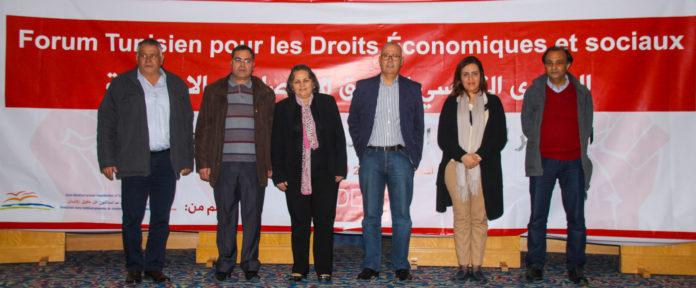 February 23, 2019 – Hammamet
The Second Congress of the Tunisian Forum for Economic and Social Rights Press Announcement
The Tunisian Forum for Economic and Social Rights held its second Congress on February 22
nd
and 23
rd
, 2019 in Hammamet. After verifying the quorum according to the internal regulations, the chairman's committee of the congress was elected: Mr. Kacem Afaya as president of the congress, Mr. Rebah Ben Othman and Mrs Kaouther Sghayer as reporters.
The agenda of the congress contained the presentation and discussion of the narrative and financial reports and the general statute of the forum, as well as the strategic plan of action of the next phase of work.
After ratifying the reports and statute mentioned above, the election of the new steering committee was held.
The election resulted in a new distribution of tasks, and members of the new steering committee were elected as follows:
Abderrahmane Hedhili: President   (abderrahman.hedhili@ftdes.net)
Imen Bejaoui: General Secretary   (imen.bejaoui@ftdes.net)
Samia Bouslama Letaief : Treasurer   (samia.ltaief@ftdes.net)
Anouar Elbassi: Member (anouar.elbassi@ftdes.net)
Sami Adouani: Member  (sami.adouani@ftdes.net)
Maher Hanin: Member (maher.hanin@ftdes.net)
Mounir Hassine: Member (mounir.hassine@ftdes.net)
The chairman's committee of the congress would like to thank all the militants of the Forum for their contribution to the success of this second congress.
Chairman of the second congress of the Tunisian forum for Economic and Social Rights
Kacem Afaya